2023 Grand Cherokee vs 2023 Toyota 4Runner
Both vehicles can be described as tough and capable utility vehicles. The Grand Cherokee is one of the strongest SUVs available, and the 4Runner is a rugged pickup truck for off-road exploration and adventure. Read this comparison to get more information.  
Price & Performance
The Grand Cherokee and the Toyota 4Runner are two of the most impressive SUVs today. The Grand Cherokee can accommodate up to five passengers, while the 4Runner can handle up to seven. There are a total of six trims under the Cherokee series that are priced between $55,045 - $77,045, and there's only one trim with the 4Runner priced at $51,890.
The base trim of the Grand Cherokee comes with a 3.6L V6 engine, while the 4Runner comes with a 4L V6 engine. There isn't too much of a difference between the horsepower and torque delivery for both vehicles. While the Grand Cherokee delivers hp of 293 and torque of 257 lb-ft, the 4Runner delivers 270 hp and 278 lb-ft of torque. The Grand Cherokee is an 8-speed automatic, while the 4Runner is a 5-speed automatic. Both vehicles are 4x4.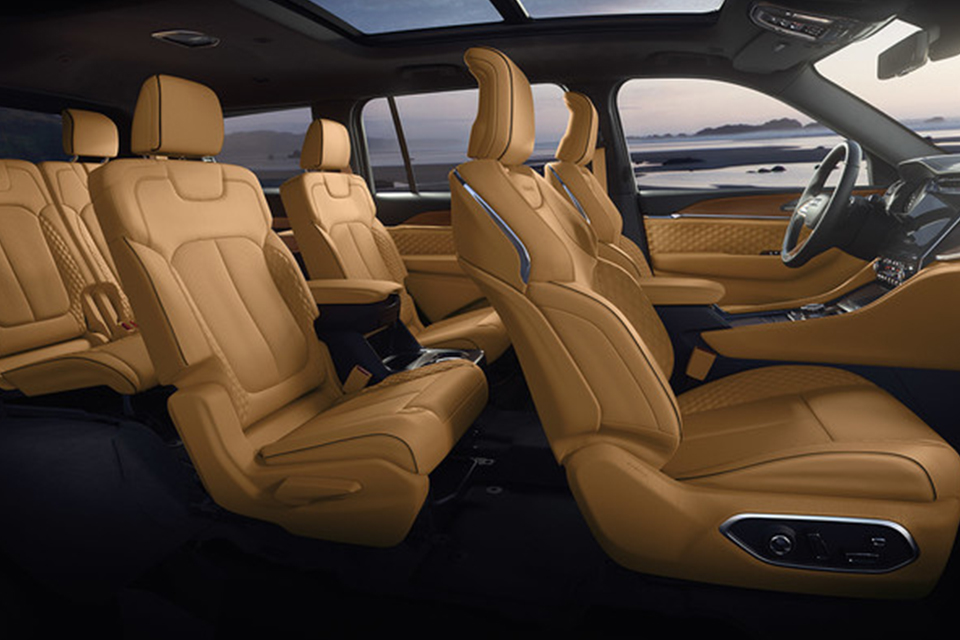 Interior Layout and Options
Both vehicles feature driver adjustable lumbar, climate control, heated front seats, multi-zone air conditioning, a power driver seat, a heated steering wheel, power windows, keyless entry, power door locks and keyless start. The Toyota also has cooled front seats, power passenger seat, and seat memory.
Exterior Layout and Options
The Grand Cherokee and 4Runner come with power and heated mirrors, remote engine start, automatic headlights, a sunroof, daytime running lights, and variable speed intermittent sensing wipers.
Technology and Infotainment Features
As far as technology is concerned, both feature smart device integration, Bluetooth connectivity, steering wheel audio controls, an MP3 player, and AM/FM radio. The Grand Cherokee also includes a wifi hotspot, while the 4Runner has Apple CarPlay, Android Auto, and a navigation system.
Safety and Driver-Assistance Features
Both SUVs come with multiple airbags, stability and traction control, ABS, disc brakes on all wheels, and child safety locks. They also feature a backup camera, brake assist, blind spot monitoring, lane departure warning, tire pressure monitoring, cruise control and adaptive cruise control.
Reserve Yours Today!
The Jeep Grand Cherokee and Toyota 4Runner are two great vehicles for two very different kinds of people. The Jeep is a reliable, powerful SUV that has all the features you'd expect in a modern car. The Toyota is a sturdy, good-looking off-roader that serves as a great truck for anyone who likes to have fun outside. Overall, both vehicles are top quality, but they appeal to different people. Make your choice as per your needs.