Solutions for 5 common Winter Car Problems
Purchase New & Used Vehicles From Home!
Learn More
Solutions for 5 common Winter Car Problems
Drivers know winter is coming every year, and yet it always seems to sneak up unexpectedly. Winter weather brings several challenges to drivers, not least of which are bad driving conditions. However, there are many other winter problems that come with the start of the snowy weather. Here are five of the most common winter car problems and some easy solutions for fixing them.
Frozen Locks
Many of today's vehicles feature keyless entry, but every so often drivers have reason to use the actual key to open their doors. If the lock is frozen, find an extension cord and hair dryer to blow hot air onto the lock to unfreeze it. Drivers could also hold the key with an oven mitt while using a lighter to warm up the key. Once the key is heated and inserted into the lock, it should melt the ice.
A preventative measure is putting Vaseline or WD-40 into the door locks before the cold weather strikes to keep them from freezing in the first place. Windshield Fog
The cold months usher in the season of windshield fog. Created by the mixture of cold air outside and warm air inside a car, windshield fog impedes visibility and takes a long time to clear. Instead of leaving smudges behind by cleaning the fog with your hand, store a clean chalkboard eraser in your car to wipe away the fog without smudging up the windshield.
A preventative measure includes spraying shaving cream on your windshield and wiping it away with a dry cloth.
Frozen Windshield Wiper Blades
Preventing frozen wiper blades calls for preventative action--simply raise them off the windshield when the car is parked. In some vehicles, the blades will not stay up, so wrap an old pair of socks around them to prevent snow and ice buildup.
Stuck Vehicle
Getting stuck on an icy patch could leave drivers stranded for quite a while, so they should keep kitty litter in their car to put underneath tires for traction in icy situations. Car mats could also be used if nothing else is available.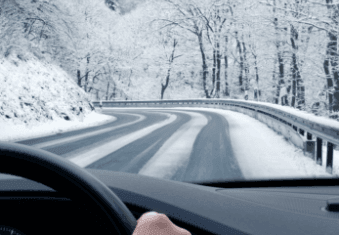 Ice-Covered Windshields and Mirrors
Ice takes a long time to scrape off and even longer to melt off, which is no fun when drivers need to get to work. Store plastic bags or old blankets in the car and cover the side mirrors and windshield overnight to prevent the accumulation of snow and ice.